Sadlemire Metal Custom Designs and Installations is an architectural custom metal company that provides the highest quality services and metal engineering solutions for both the commercial and residential markets. Specializing in Metal Architectural Installations such as Luxury Staircases, Artistic Railings, Ornamental Entrance Gates, Historic Renderings and Unique Monumental Sculptures. With over 30 years of experience, renown Metal Artist, Builder and Sculptor Robert Sadlemire works personally with each individual client, designer and architect to discover the aesthetics and goals for the project. This on going creative exchange ensures a finished metal application that fulfills the desired aspirations of the client and represents a unique artistic vision. 
"Combining form and function is my passion, engineering the two into a breath taking final form of a sculptural statement is the goal"   Robert Sadlemire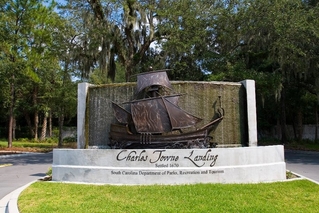 "My goal as an Metal Artist, Sculptor and Builder is to deliver a unique custom product to commercial businesses and residential home owners alike. Creating durable beautiful metal applications that are marked by artistic integrity, quality construction, craftsmanship and above all,  fine art to last a lifetime."
– Robert Sadlemire
 SADLEMIRE ENTRANCE GATES  are custom designed, built and impeccably crafted using only top quality products and materials to ensure a lifetime of lasting beauty. "We are honored to have Sadlemire Entry Gates featured in the prestigious Robb Report's Exceptional Properties Magazine, as well as in many other  fine publications such as the Charleston Home Magazine, South Carolina Home & Garden."
Sadlemire Commercial Installations and Sculptural Signage makes a powerful and long lasting statement. From Iconic Entrance Signs, Public Sculptures, Historic Renderings to Commercial Applications we take pride in designing and creating a trade mark look that your customers and public will remember.
"Custom Installations marked by artistic integrity and quality construction, creating a functional work of art to last a life time." Robert Sadlemire
                                              CALL FOR YOUR FREE QUOTE  843.267.4894

"Robert Sadlemire's sculpture creations are like repeating thunderclaps of innovation. The four pieces he designed specifically for my office (including a 16 ft theatrically- lighted abstract sculpture) are purely iconic and have inspired the admiring and now familiar phrase of recognition:" Oh that Building!" Every design and every aspect of ever design is other-worldly in its singularity and sweep. Robert is not merely on the cutting edge, he is the curling lip of it."
Scott B. Umstead, P.A.
Attorney at Law
STAIRCASES & RAILINGS  by SADLEMIRE attain a standard of excellence for both the traditional and contemporary, creating all types of metal configurations and styles. Safety within the stairs structure is essential priority while structural integrity insures a lifetime of lasting beauty.
Custom Metal Sculptural Art by Robert Sadlemire is achieved through his bending, curling and weaving of seemingly cold and unyielding metal into a warm beautiful and evoking art statement.            
   " During the moment of creation, a strict union is forged between function and form." Robert Sadlemire